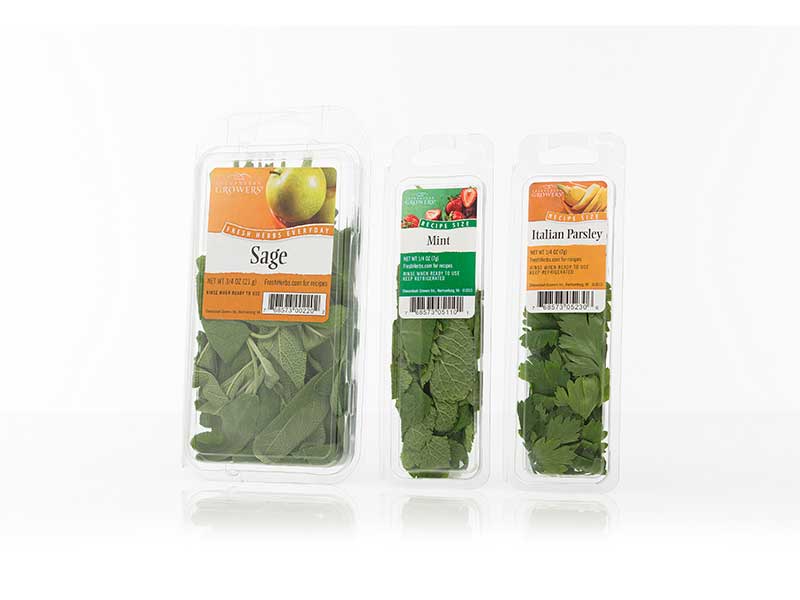 Herb Company Counts on Pack Leader USA
Pack Leader USA's exceptional quality and service provide peace of mind for a national fresh herb company.
The Right Combination
Pack Leader USA's client ("HerbCompany" for purposes of this case study) purchased their first Pack Leader USA labeler in May of 2011. Since then, due to outstanding growth and sales, HerbCompany purchased 10 more Pack Leader USA labelers for their three facilities. With over 250 SKUs and a variety of pack sizes, some standard and some custom, they have many important labeling needs today. More than half of their units are private label and they are always looking for new products and pack sizes. As a result, they need top notch labeling equipment that is dependable, durable and allows for quick and easy changeover.
When asked about Pack Leader USA's value, the Vice President of HerbCompany states, "The Pack Leader USA labelers have a direct effect of automating the labeling process which reduces labor costs. It also helps increase our production capacity which allows us to maximize sales before investing in expansion."
Offering Value and Expertise
When selecting a company for labeling equipment, HerbCompany needed many specific requirements. The most important was the need for the labeler to benefit their rate of output along with automating the labeling process accurately and effectively. Also total cost of ownership, ease of operation and labeling speed was a great necessity.
HerbCompany's facilities produce over 20 million units per year that require a label. They needed top of the line equipment that could help them achieve that level of output – Pack Leader USA has been the partner that helped make that happen.
Focusing on Core Competency
The executive management team at HerbCompany spends most of their efforts staying in front of the ever-changing industry while controlling costs to maintain profitability. The Vice President states, "Issues that can be taken off our plates and not require our constant oversight is definitely welcomed."
Dependability was of the utmost importance. Pack Leader USA's superior service gives HerbCompany peace of mind and allows them to focus on growing their core business.
Growing Into the Future with Pack Leader USA
Currently, HerbCompany's service market is based in the United States only. However, they are utilizing growing agreements in Mexico, Colombia, Peru, Guatemala, and Israel and working with the USDA/APHIS and governments in Egypt, Ethiopia, and Jordan to expand trade routes for fresh, culinary herbs. With sales growth of nearly 400% over the past seven years and the goal of expanding into more regions, HerbCompany expects to see a greater increase in the number of SKUs they offer along with an absolute guarantee that the Pack Leader USA labelers can handle this demand. The Vice President states,
"There are certainly other companies out there that provide adequate labelers which we've used in the past. But our Pack Leader USA labelers are much easier to maintain and require a lot less adjusting during the production process. Plus, our labelers from Pack Leader USA have a longer lifespan while producing at a higher rate."
A Winning Relationship
The relationship between HerbCompany and Pack Leader USA has proved to be a winning combination, with both companies highly satisfied with the successful results of the labeling solution. HerbCompany's offerings will only grow from here, especially with private labeling as the trend in the retail market. Pack Leader USA will be there every step of the way.