If you're selling a candle, you want to showcase an attractive design that appeals to potential customers. But what you want to include on the label is very different from what you need to include. While pleasant and relaxing, candles still pose safety issues and could be a fire hazard. To combat this, there are industry standards that you'll need to meet. So before you dive head first into the creative side of label-making, here are the logistics you'll need to be aware of so your candle label is compliant with guidelines, easy to spot, and holds fast to your product.
The Fair Packaging and Labeling Act
The FPLA guidelines are detailed legal requirements for your candle's front-facing labels. It states that labels on round containers need to cover 40% of the surface, while on rectangular ones, they need to cover one side. The label must be placed directly on the container, the packaging, or the physical candle. Your candle label must also include some essential information to comply with the FPLA.
Statement of Identity
This aspect is relatively simple to include - your candle label should say clearly what it is. That means you'll need to identify it as a candle, wax melt, or similar product. Adding the scent or the type of wax you use isn't required in the guidelines, but it's a good business practice to be transparent; your customers will appreciate it!
The Company's Name, Contact Information, and Logo
The FPLA states that the name and place of your business need to be included on your candle label. Again, everyone would want to include something like a logo to better market their product. But even though it's considered mandatory on U.S. candle labels, contact information is valuable for your customers and can help build trust.
Weight
Your product's label should display the product's weight in standard and metric measurements. The number should represent the entire candle weight, including the wick, but not the container. This labeling requirement is more finicky than the others; the font for this information has a minimum, depending on how large your label is:
If the label is 5 square inches or smaller, the minimum font height is 1/16 inch
Labels 5 to 25 square inches have a ⅛ inch minimum
Anything 25 to 100 should be no smaller than 3/16 inch
Some FPLA guidelines, like address or weight, have notable exceptions and details that could apply to you. It would be best to read through these guidelines before making large-scale candle labeling decisions to save yourself the headache and expense of missing something minor.
The National Candle Association
The NCA developed voluntary guidelines for labeling candles. The information they suggest is much more specific to candles, the biggest being fire safety labeling. While placing these on your product is your choice and isn't required by law, it's considered an industry standard, so you'll want to follow suit. Here's what you should include on your fire safety label:
Safety Statements
There are three main statements you'll want to have somewhere on the label:
"Burn within sight."
"Keep away from flammables."
"Keep away from children and pets."
You can incorporate these as simple statements, use approved graphics from the NCA, or a combination of the two.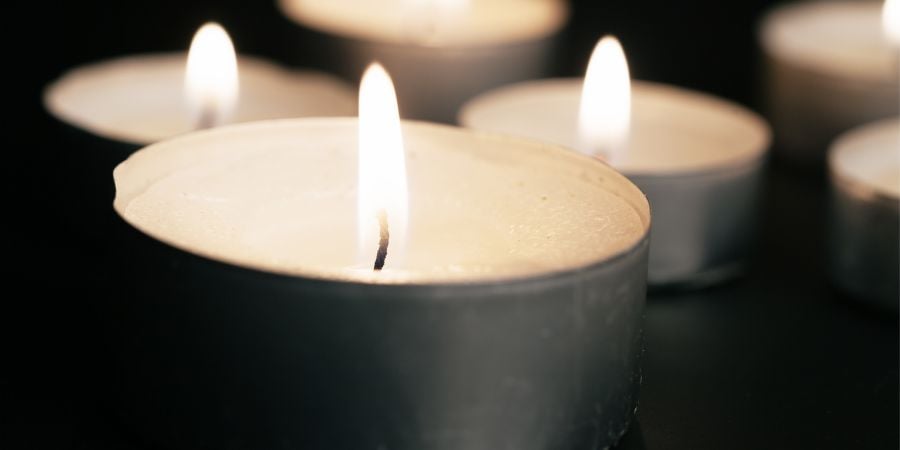 Instructions and Other Safety Information
Any additional information to ensure proper use, such as when to trim the wick, is highly recommended. This information often gets a separate label that manufacturers place on the bottom of the candle or container. It helps keep the main label from feeling too cluttered and makes it easier for the customer to refer back to if they decide to remove the main label.
All About Candle Labels
If you're working on your candle labels and need extra guidance, check A Practical Guide to Choosing Labeling Equipment. This guide will help you pick the industry's finest equipment perfectly suited to meet your needs. Get your copy of this completely free guide here!