Ten years down the road, your labeling machine should work as well as it did when you printed your first label.
When you purchase a labeling machine, you're entering into a partnership with the manufacturer. You'll be relying on them to provide a high-quality and dependable product, perform preventative maintenance, repair the machine when it breaks, and train your team to use it properly.
Whichever manufacturer you choose, they need to be responsive to your needs and transparent about their processes. Going with a labeling manufacturer just because they offer a cheap machine can result in frequent and lengthy downtimes. Lack of service, low tolerances, fragile parts, and unclear instructions will end up costing you far more than investing in quality equipment in the first place.
Let's break down the specific metrics you should use to judge whether you can trust a labeling equipment manufacturer.
Reputation
Find out what customers are saying. Are there any red flags that should ward you away from considering a given company? Customer testimonials can either validate your choice or stop you from making a purchase you'd regret. If you keep finding positive review after positive review after positive review, then you know you're on a track leading you to a good purchase.
As you read testimonials, pay close attention to those that are in your industry. For example, if you run a brewery, see if there are breweries currently using the manufacturer's labeling equipment. Just because a cosmetic company sings the praises of a particular equipment manufacturer doesn't mean they'll be the right fit for you.
The bottom line is, research, ask questions, and read or watch as many reviews as you can find.
Factory Acceptance Test
To ensure your container and label will work together, you should schedule a Factory Acceptance Test (FAT) with any prospective manufacturer. A FAT allows you to tour the production facility where the labeling machines are made. You can check out the processes and see that the machines are built properly and to the right specifications. You can also have the manufacturer perform a test with your container and label to ensure it will work with their equipment.
Think of a FAT as a test drive. You'd never buy a car you couldn't sit in and drive, and buying a labeler sight unseen would also potentially result in serious headaches! If a labeling equipment manufacturer doesn't offer a FAT or doesn't let potential customers check out their manufacturing process and test out the equipment themselves, then that's a good sign you need to keep searching for the right labeling partner.
Training and Setup
You never want to hear an employee say, "how does this contraption work?" A good labeling manufacturer will offer comprehensive startup and training for you and your team. They should set up your new labeling equipment on site and work with your employees to make sure they understand the entire operation process. Labeling machines need to be finely calibrated to produce consistent results, and without proper setup and use, you will more than likely get poorly labeled products.
Continued education and training are also essential. Employees may come and go, so having new hires understand the procedures for using the labeling equipment shouldn't be something that burdens your organization. The labeling manufacturer should offer training to new employees. Also, should you decide to change your labels or start using a new container type, your labeling manufacturer should have technicians who can analyze the feasibility of the project with your existing equipment.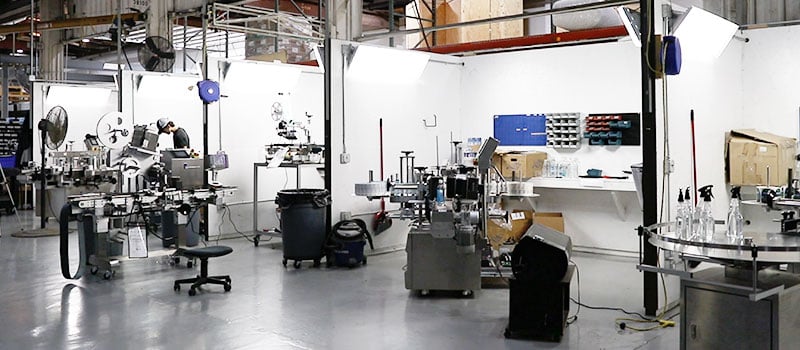 Preventative Maintenance
Any potential manufacturer should offer onsite repair and maintenance to keep your labeling equipment working smoothly and efficiently. Rather than have your equipment break and lose precious production time while you wait on a repair technician, a preventative maintenance schedule can keep you from experiencing costly downtime.
For example, Pack Leader USA offers the Pack Plus Program, a comprehensive, 50-point inspection to check that your machine is running at optimum efficiency. Programs like this allow you to focus on your business and not worry about whether your expensive labeler will break down and interrupt your production.
Service and Repair
When your equipment experiences a glitch, malfunction, or failure, fast and efficient service is a must. You should be able to access help 24/7 by phone, email, or through the company's website. Depending on the problem, timing, and circumstances, technicians can either solve your problem with an onsite visit or through a real-time video call.
Going back to the importance of reputation, be sure to learn about the manufacturer's helpfulness and quality of the service. Customer service staff and technicians should be well-trained, knowledgeable, and courteous.
Expandability
Let's say you want to upgrade your packaging line by adding a label printer. Ideally, you'd have a labeler system that could grow with you, allowing you to seamlessly add capabilities and functions along the way.
For example, Pack Leader USA offers modular solutions with printer add-ons, saving you from purchasing an entirely new piece of equipment from another company that may not work with your current line or label applicator.
Pack Leader USA's Commitment to Quality
Early on, labeling machines were large, expensive, and difficult to use. Pack Leader USA changed that with smaller, more affordable, modular, easy-to-use labeling equipment that was also durable and reliable.
When you purchase a Pack Leader USA labeling machine, you'll receive outstanding and responsive service, expert training, rock-solid performance, and industry-leading features, all tailored for your operation. We are committed to quality, and we want to ensure you're as happy with your labeling equipment ten years from now as you are the day it arrives at your facility.
We look forward to helping you create amazing products for years to come. Schedule a consultation today, and find out if Pack Leader USA is the labeling partner you need.