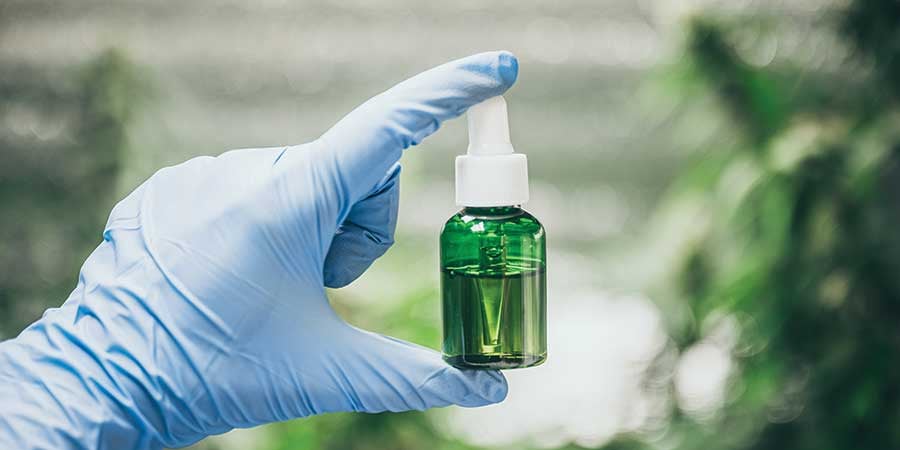 Customers will pay more for organic, but creating organic products takes effort.
Before the 2018 Farm Bill, hemp was a Schedule 1 Controlled Substance. While CBD was never technically a controlled substance, the matter was clarified, and CBD derived from marijuana plants could now be used with far less regulation. This path paved the way for CBD oil to become mainstream in many products, from pure oils to lotions to gummies to pet products.
The 2018 Farm Bill also allowed for USDA Organic certification of hemp products, which meant that CBD oil manufacturers could use the word "organic" on their CBD packaging if they met the strict criteria and were certified.
While to the non-educated reader, this may sound like great news (and it is), those who produce organic CBD products know this is actually complicated. Much like organic food, the process for growing and selling organic CBD requires strict controls over the soil, plant, manufacturing equipment, packaging, handling, and cleaning processes. Additionally, there are several tiers of organic labeling:
100% Organic - This is the highest tier, certifying that every ingredient and process adheres to the definition of Certified Organic.
Organic - This label ensures that 95% of ingredients have been Certified Organic, but there might be the presence of some approved chemicals.
Made with Organic Ingredients - While the product may contain some organic ingredients, some or all other ingredients are not.
To attain the 100% Organic certification, you'll need to ensure your packaging line offers no opportunity for contaminating your clean CBD oil. Every CBD filling and capping machine on your floor needs to maintain the highest levels of cleanliness.
Let's discuss how you can set up your CBD packaging line for success and meet the high 100% organic standard.
Start With Organic CBD Oil
Before discussing your packaging line, let's go over what "organic" means for CBD Oil. To qualify as organic, your CBD oil must:
Come from non-GMO seeds
Be hormone-free
Grow in soil treated with only natural fertilizers and must be tested during the entire growth cycle
Never come in contact with pesticides, herbicides, or other biocontrol chemicals
Be free of radiation
You'll also need to decide how to extract the oil, whether you settle on CO2, organic ethanol, or a solventless extraction, such as a cold-press method.
Once you've gone through the process of getting your CBD oil USDA Certified Organic, which can cost thousands of dollars, then it's up to you to make sure it stays clean from the moment it's extracted to the moment it's in customers' hands.
Your Facility Must Meet Organic Standards
The sanitation of your facility needs to be top-notch.
Keeping pests away is not something you have to worry about only when you're growing your CBD but in and around your equipment, too. Chemical-free and humane traps for rodents, rubber and foam on door and window seals, and HEPA filters in HVAC systems are all preventive measures that will help keep pests and pathogens out of your packaging line.
As for your employees, they'll need to maintain proper hygiene. Handwashing with approved soaps, hairnets, clean clothes, designated areas for eating and drinking, anything they can do to keep from bringing contaminants into the packaging area.
As for your cleaning process, the chemicals you're allowed to use and maintain an organic certification fall under strict regulation. The USDA's National List of Allowed and Prohibited Substances will guide you on which solvents and cleaners you can use. All it takes is one machine being cleaned with an unapproved chemical to get a product stripped of its organic certification.
You also need to select containers that won't contaminate or taint your CBD oil. Just because your container might be sustainably sourced and environmentally friendly does not mean it can contain CBD oil without leaching unwanted materials into your product. Thankfully, packaging producers are working to satisfy sustainability and durability in their products, giving you a wide array of choices that will keep your CBD oil safe and certified.
CBD Oil Bottle Filling
Once you have your organic CBD oil and approved bottles, you'll need filling machines that meet the FDA's high standard for organic.
First, you'll need to test your oil's viscosity using a viscometer. Once you know the thickness (CBD lotions tend to be viscous while CBD oils and tinctures are mostly semi-viscous), you can decide whether you need a peristaltic pump or a piston pump filling machine.
Peristaltic Pump: These types of filling machines use tubing and rollers for a pulsation-free operation. They are easy to clean, only requiring the pump tubing to be changed out. They are less accurate than piston pump filling machines. However, usually with a range of 1-2% and with a properly designed piston pump, the cleaning process is about as simple.
Piston Pump: A cylinder and piston alternate between pressure and suction through a nozzle. Piston pumps are more accurate than peristaltic pumps, with a range of around 0.5%. Piston pump filling machines, such as Pack Leader USA's FL-12, use stainless steel and aluminum for durability, low wear, and easy cleaning.
Another thing to look for in a filling machine is how it determines when a container is full. There are two methods machines use to do this.
Liquid Level Filling: Bottles are filled to a specific height regardless of the actual amount of CBD oil in the container.
Volumetric Filling: Bottles are filled to a specific volume, such as 2 ounces, so that regardless of the level of liquid in the bottle, all bottles contain the same amount of liquid. Pack Leader USA's filling machines all use this method.
Capping for CBD Oil Bottles
Bottle caps need to be clean and sanitary, too. And if employees need to place caps on the bottles before getting fed into the machine, they must have clean or gloved hands. Before your filled bottles are pushed to the capping machine, the product inside is still exposed — so a dirty cap or ungloved hand could pollute a clean oil, making it incapable of being called 100% organic.
The capping machine will use the proper torque to ensure a tight seal between the lid and the container. Just as with your filling machine, your capping machine needs to be easily cleaned and made from durable, wear-resistant materials, such as stainless steel and aluminum, such as Pack Leader USA's CP-10. Pack Leader USA's equipment is also modular for simple disassembly and reassembly, making cleaning, servicing, and replacing individual parts a quick, easy task.
100% Organic CBD Product Labeling
It would seem logical that once you've sealed your CBD oil in the container that the battle is won — but not so fast!
Remember that all your materials play a part in keeping your product organic, even labels. Your product could come into contact with your label materials at any point, whether in your facility or the customer's home. You'll need to select labels with adhesives that meet requirements. You may even go so far as to find labels that are biodegradable and compostable.
As for your labeling machines, they too need to be easily cleaned, meeting organic standards. Like our filling and capping machines, our labeling equipment is also modular and made of stainless steel and aluminum. If you choose, you can add on a hot stamp or thermal transfer printer without having to make room for a separate piece of equipment in your line or worry that the new equipment won't meet sanitary standards.
Fill, Cap, & Label CBD Oils Quickly & Accurately
Our team wants you to succeed. That's why we've made a full line of filling, capping, and labeling equipment ready to help you get your organic CBD oil on store shelves faster.
When you choose Pack Leader USA, you're choosing an experienced partner with a proven track record, so don't hesitate to reach out to us for a free consultation so we can help you find the right equipment for your organic CBD oil packaging line.
We've also put together The CBD Manufacturer's Guide to Filling and Capping CBD Bottles to give you all the info you need before you start shopping for new equipment.
Resources: