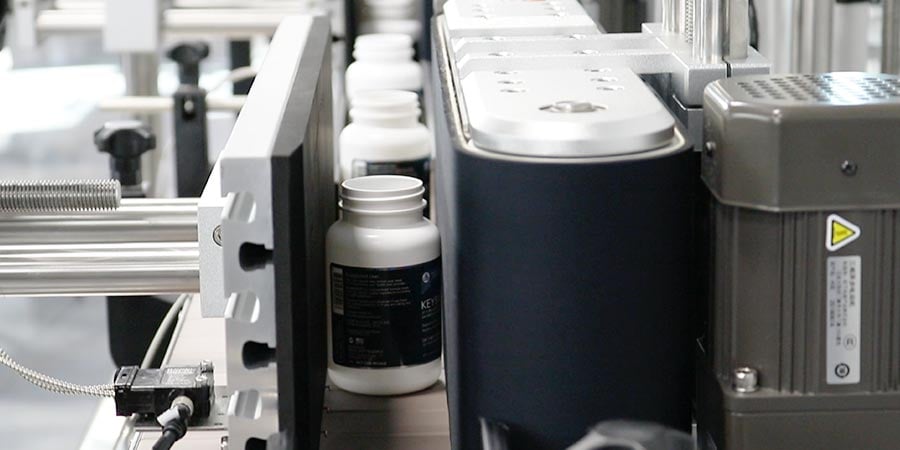 Discover 4 things that will impact the labeler you choose for your products.
Undoubtedly someone has uttered the cliche to you — "If it ain't broke, don't fit it." — challenging you not to change something simply for the sake of change. However, that's not always the right approach. The issue may not be that it's broken — it could be that it's inefficient.
For instance, just because your production line machines aren't broken doesn't mean they're the right ones for the job. We're not suggesting that all of your equipment is inefficient; we're merely suggesting that it's worth your time to evaluate them, ensuring that they're not just working, but working optimally.
As manufacturing companies strive for greater line efficiency and effectiveness, many have discovered that their production level could be improved and profit margins increased if they identified and fixed problem areas. Paying attention to every machine's actual output, recording downtime due to repairs and maintenance, and replacing substandard equipment isn't optional — it's essential.
Look at one machine at a time. For example, start with your labeler. Is it keeping pace with the line? Is it labeling as quickly as it should? Is it applying labels precisely and consistently every time? If not, this might be the time to look into other labeling options. But how do you know which labeler would be better and fit seamlessly into your existing line? Let's look at a few key metrics to determine the best labeler for your production needs and operational goals.
Speed
Having a machine that runs fast is great, but more important is its ability to maintain pace through the length of the assembly line. When every piece of equipment runs at the right speed, you have a properly balanced line: no bottlenecks and no gaps.
It's no different for your labeling machine. Your labeler should be adjustable, allowing you to control the speed. Professional, fully-automatic labelers, like Pack Leader USA's PRO-625, will let you tweak the speed to match the line, so all equipment is functioning at the same rate. Time is everything when it comes to efficiency.
If your operation is on the smaller side, there's still a lot of human involvement in the production and packaging process. When production demand isn't overwhelming, perhaps having the fastest labeler isn't a need. A small tabletop labeler like Pack Leader USA's ELF-50 is far quicker, more accurate, and more efficient than hand labeling.
Reliability
You need to trust that your equipment will work. If parts are constantly wearing out, alignment is difficult to achieve or maintain, and service is a pain, you're going to have a tough time maximizing production numbers. Your labeler should have tight tolerances, consistent parts availability, and the manufacturer should have easy-to-reach, reliable service.
Pack Leader USA's labeling machines are made from 304 stainless steel and anodized aluminum to fight rust and resist wear. All serviceable parts are within easy reach, and service is available 24/7.
Flexibility
Your equipment should serve your needs, not the other way around. Want to start using larger containers after receiving customer feedback? Your machines should be able to accept a wide range of sizes. Want to expand the capabilities of your equipment, perhaps adding the ability to print your own labels? Expandability should be a feature in every part of your production line so you don't have to purchase an entirely new machine every time you want to make a small change. If your equipment can't change, change your equipment!
Pack Leader USA's modular label machines work in line and out of line, can be programmed with multiple presets for different production runs, can accept a wide variety of container sizes, and are expandable. You can add a hot stamp printer, heat shrink tunnel, or integration solutions to make a Pack Leader USA labeler work with an existing production line. You can tailor the machines to fit precisely into your operation right where you need them to be.
To expand on size for a moment, you may only need a labeler to accept boxes that are 6x4 inches, meaning you would be served well by Pack Leader USA's ELF-20. But if you have a comparatively large container that's 8x8 inches and want to label both top and bottom at once, you'd want to check out the larger PRO-225 model.
Budget
Worrying about cost and not over-buying is just smart business. After all, production lines come in all shapes and sizes. You might even pride yourself on being a small, locally run operation that relies on good old fashioned human labor for the majority of your production, but want to automate a few processes that just can't be done easily by hand. That said, a massive, completely automatic, expensive, complicated piece of equipment might look like it'll solve every production problem conceivable, but it could cost an arm and a leg and several more arms and legs.
If you're a mom and pop operation and don't need all the bells and whistles, then a small, less expensive tabletop labeler like Pack Leader USA's ELF-20 will suit you well. It's perfect for small production runs and can even be moved in-line if you have an entirely automated production line. And while it's recommended for production lines to have backup equipment in case of a breakdown, small operations that can only afford one labeler can have peace of mind knowing that a Pack Leader USA machine is designed and built to last.
If you've got a larger budget because you're running a massive facility that has to meet national demand, then stepping up to a larger machine like Pack Leader USA's PRO-215 will allow you to increase your speed, product size, and label spool size for less downtime. It might be overkill for a smaller boutique shop, but perfect if your products are going to stores across the country.
Labeler Machine Options
You know you need a dependable, fast, consistent, and budget-friendly labeler that will meet your packaging goals and fit within your current operational setup. But which labeler is best for your label type and container dimensions? Below are standard labeler options along with Pack Leaders USA's labeling equipment that fits the category.
If you want to learn more about Pack Leader USA's label machine options, spend some time comparing the features and benefits. If you need further help from one of our experts, we invite you to schedule a free consultation, and we'll help you find the right machine for your production line.