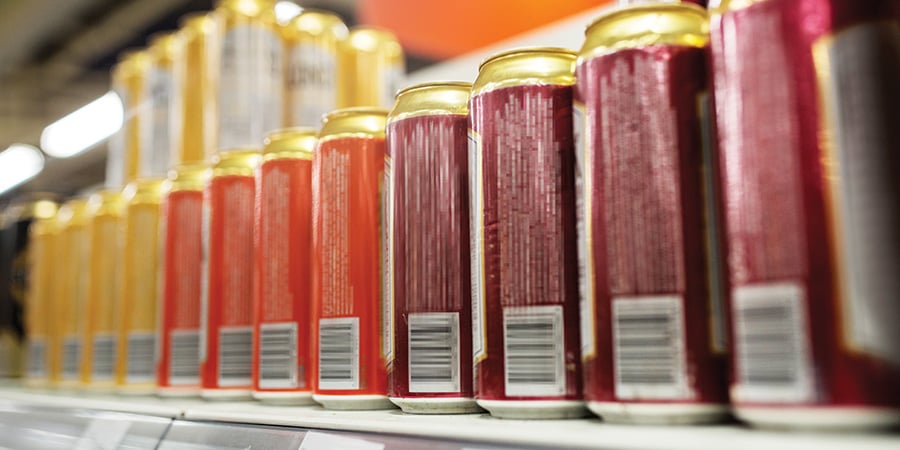 Craft beer drinkers agree that packaging and labels influence their purchasing decision.
A beer with an amateurish label will not end up in a beer geek's shopping cart. Nielsen reported in their 2017 Craft Beer Category Design Audit that 66% of craft beer drinkers say the package or label is "extremely" important in getting them to notice it, and that 71% like to try brands with bold or interesting packaging. Other attributes, such as ABV (alcohol by volume), or the shape of the bottle were rated as far less important.
Beer aficionados expect their beers to please their eyes as much as their taste buds. In the era of Ratebeer and Beer Advocate, brewing methods, taste profiles, and first impressions matter. So, whether your brewery is churning out beer in bottles, cans, growlers, or crowlers, it's critical that the labels are eye-catching and professionally applied.



Beer Containers & Beer Labels
Let's start with how your beer is getting to the consumer. Unless they're drinking it out of a glass in your taproom, they need a way to get it home. Your choice of beer bottles, cans, growlers, or crowlers to contain your beer can depend on a variety of factors, from appearance to how long you want it to last on a shelf. The bottles vs. cans debate will continue long into the future, but for now, let's focus on the labels you'll be applying.
Beer Label Styles
So that graphic designer you hired created a killer design for your label. Congrats! But it still has to make its way onto the beer itself. You have a few choices for label types depending on your needs.
Wraparound Labeling: This will work if the label goes around a consistent cylinder shape. The label uses adhesive to stick one end to the bottle, wraps around the container, then uses more adhesive to stick to itself. Smaller labels can be wrapped around the top of the neck of a bottle or growler, too!

Front and Back Labeling: This will involve two separate labels being applied to your container. One may contain the logo and the name of the beer, plus any artwork that may be included. The other label may contain the surgeon general's warning and any information about the brewery or the beer itself (ingredients, IBU's, gravity, ABV, etc.). This requires adhesive on the entirety of the label to stick to the container properly. For bottles and growlers, labels can also be applied to a portion of the neck.


Shrink Sleeve Labeling: This is generally reserved for cans or crowlers. Shrink labeling makes use of the can's entire surface. They are resistant to moisture and abrasion, and being able to create your own professional looking shrink labels means you don't have to order a supply of pre-printed cans. Because of how large they are, crowlers make great candidates for shrink labeling because they can really show off some impressive artwork.
Printing Your Beer Labels
Once you've chosen the containers you're using and what kind of labels you want, you'll need to decide how to apply your labels. You want to get those labels on quickly, but you also want them to look like they were applied with the same care you put into brewing your beer. Time is money, but so is a slick, professional appearance.

Online Printers: You can send your design to an online printer, and they can send you labels. You still have to apply them, of course, and since you're not printing them, you have to wait for them to get shipped to you.

Inkjet Printers: Yes, for the home brewer, labels printed from an inkjet printer can work. However, just like with labels shipped from an online printer, you still have to apply them yourself. Also, the labels often look, well, like they came from an inkjet printer. Ink can run and ruin your design.

Hot Stamp Printers: Hot stamping does not use ink when printing. It is a heat and pressure method, where a machine heats foil paper and then stamps the product. This is a great option if you do not need to match a specific PMS/Pantone color.

Thermal Transfer Printers: Thermal-transfer printing is a digital printing method in which material is applied to paper by melting a coating of ribbon so that it stays glued to the material on which the print is applied. Thermal transfer is preferred over direct thermal printing on heat-sensitive surfaces.
Labeling Your Beer Container
For the brewer who wants to market their beer, buying or leasing a labeling machine that can slot into their packaging process will dramatically decrease the amount of time it takes to label the beers. And the cost of a machine is reasonable considering the cost savings of not having an employee label every single bottle!
If you choose to go with a labeling machine, you need to determine how much automation you need. There are three basic kinds of labeling machines.

Manual: These require employees to load and apply each label. More consistent than doing it by hand, but still time-consuming. Perhaps your output is extremely limited, and it's worth saving the money over investing in a more expensive machine.


Semi-automatic: These bridge the gap between manual and automated. An employee will have to load the machine and press a button to apply the labels, but it's still a huge time savings over applying the labels manually, and the machine is simpler and less costly than a larger, automated unit.


Automatic: Automatic can be broken down into two types: in-line and rotary. In-line machines allow filled bottles to be fed continuously and can produce around 150 labeled bottles per hour. Rotary machines are faster still and are capable of up to 500 labeled bottles per hour.
Whatever your needs, a labeling machine will result in consistently applied labels faster than anyone can do it by hand. Any machine you decide to make a part of your operation needs to apply the labels evenly without ripping or tearing them, and it should be flexible enough to adjust to your various container types.
Entry Level: Pack Leader USA's ELF-50 is an affordable option for small breweries with a modest output but who still want their containers to look professionally labeled.
Versatile: Pack Leader USA's PRO-625 gives you the option of front and back or wraparound labels and can be adjusted for tapered or differently shaped containers.
Shrink Sleeve: Pack Leader USA's SL-10 lets you use every bit of space on your cans or crowlers and can turn out 100 to 550 per minute.
Get Your Free Craft Beer Labeling Guide
Pack Leader USA wants your containers to look as amazing as the beer inside tastes, so we've put together a free 20-page guide called, The Brewer's Guide to Craft Beer and Microbrew Labeling Equipment. Professional beer labeling doesn't have to be complicated or nerve-racking! You already had plenty of stress involved in the design of your label. No need to fret over how it's going to stick to a bottle.