Introduction
As the legal use of cannabis products grows, consumers are becoming more curious about their options. This includes cannabidiol (CBD) and tetrahydrocannabinol (THC), two natural compounds found in the cannabis plant genus. Both compounds interact with your body's endocannabinoid system, but they have very different effects. THC is unique for one reason: it's psychoactive. Unlike its non-psychoactive cousin, CBD, THC is still illegal in most states.
The practical differences between CBD vs THC are psychoactivity and legality.
For states in which THC is legal for recreational use, a government-issued photo ID is required to validate that the consumer is over the legal age of 21 years. For cannabis medicinal patients, most often a medical card and a physician's recommendation is required.
Though still controversial, THC is known for helping with conditions such as chronic pain, muscle spasticity, glaucoma, insomnia, appetite loss, nausea, inflammation, insomnia, and anxiety. According to the National Cancer Institute, THC has been used effectively for medicinal purposes for more than 3,000 years.
As the THC consumer base grows and more states legalize cannabis for medical use, demand is rising. This is great news, right? Sure is! But it means that competition is fiercer than ever. How does your cannabis product stand out from the rest?
As a THC manufacturer, make your products speak louder than the competition. Your branding — including packaging and labels — needs to communicate quality, prompting consumers to choose your product over others. To do this, select the best container type, design exceptional labels, and get your THC product to the dispensary market as quickly as possible.
To get noticed, cannabis manufacturing owners and managers need to find innovative ways to make their brand stand out. Creative and unique labels are just one way to gain attention and create distinction. Fortunately, there are a variety of labeling technologies that can make a visual impact on your target audiences for recreational cannabis or medicinal cannabis.
Label Design Trends
Research shows that color is critical in consumer purchasing decisions. Color affects the customer's mood and interest. For instance, green is associated with nature and elicits feelings of calmness. Blue is associated with health and peace. Yellow with cheerfulness and positivity.
While these color principles can influence your container, label, and packaging color choices, here are a few packaging trends that are popular in the cannabis market.
Earthy - If your ideal customer gravitates toward a natural lifestyle, you might brand your packages using organic colors and recyclable containers. This aesthetic appeals to consumers who are also concerned about being eco-friendly.
Health-conscious - Many in the market are interested in the potential THC health benefits. These consumers may resonate with packaging that resembles other familiar health items such as protein powder and bagged granola.

Medicinal - As THC becomes more widely accepted as a medical alternative for pain relief, some are branding their products to connect with this market. These containers may resemble traditional pill bottles or toothpaste boxes.

Minimalist & Neutral - Clean, simple packaging with crisp black and white or charcoal gray labeling (possibly with a pop of color) can create a modern, high-end feel and offer broad appeal to the mass-consumer market.

Botanical - Labeling that features hemp leaves and flowers using a variety of green hues can quickly tell consumers that the package contains cannabis. A floral look and feel also fit well with modern design trends.

Vibrant & Bright - Although THC is often known for its psychoactive effects, there are plenty of other benefits that consumers love. So don't be afraid to go bold with your color pallet. Bright hues, used tastefully, are eye-catching and offer amazing shelf-appeal in dispensaries and online stores.
Photo credit: Packaging Digest
The importance of well-designed packaging cannot be understated. THC labels aren't just canvases for creativity; they must also display state-mandated regulatory information and THC warning labels for consumables, including supplements and edibles. As with any label, the best course of action is to be clear, concise, and easily legible so consumers know exactly what they're purchasing.
Federally, the USDA has begun to regulate THC. The USDA indicates that, potentially, cannabis products could contain up to 0.3 percent THC, the limit in Canada and many other countries. For more context, read the FDA's Regulation of Cannabis and Cannabis-Derived Products, Including Cannabidiol (CBD).
After evaluating your competition and your current label design, take a look at your label application process to be sure it's optimized. No matter how quickly your products are made, and no matter how awesome your labels look, if your assembly line is slow or inefficient, it can be a significant hindrance to your operation. Consider upgrading or updating your labeling machine — a key component in any manufacturing line. Your labeling equipment investment can pay for itself quickly by increasing efficiency and productivity immediately.
Labeling Equipment Types
Professional packaging isn't just about intentional coloring or attractive label designs. It also allows you to highlight some of the key benefits of your products in meaningful and impactful ways. Additionally, it sets you up as a trustworthy industry expert.
With the popularity of THC oil, THC vape juice, THC gummies, cannabis oil with THC, and more on the rise, your product, packaging, and speed-to-market need to be on point if you're going to claim your piece of the proverbial pie.
Some THC manufacturers don't give enough attention to choosing the right labeling equipment — and that's one area in which you can get a leg up. Designing a professional label with helpful information that's easy to read and understand is half the battle; the other half is getting that THC label on your container perfectly every time. A great, well-placed label can differentiate your THC product from the competition.
Ready to start labeling your THC products with automatic labeling machines. As more cannabis companies come to the market, the race will be on to determine which companies are the gold standard for professionalism in the industry. Automatic labeling machines are helping manufacturers of THC products to achieve their output goals in less time.
If you're worried that a top labeler might smash your cannabis product, don't be! You can find a labeler machine that can be perfectly calibrated to apply just enough pressure to the label to guarantee adhesion without damaging the items inside. These pressure-sensitive labelers are gentle enough to package bread loaves and pastries, so you can rest assured that your kush products are safe, too.
As for labeling application options, applicator machines come in manual, semi-automatic, and automatic models. Knowing your label application needs and your goal production speed will help narrow down the choices.
Manual labeling machines require workers to load and apply each label individually.
Semi-automatic labeling machines are operated by a hand or foot switch. An employee loads the container onto the conveyor then presses a button to apply the labels. This method is faster and more consistent than manual hand labeling. In many cases, a semi-automatic, wrap-around labeling machine is the best option for labeling dropper bottles, tincture bottles, tins, and bags because it allows for a seamless transition to a fully-automatic bottle labeler down the road without having to overhaul your equipment or packaging line.
Automatic labeling machines have rotary and inline options. Both are quicker and more accurate than manual and semi-automatic labelers. Automatic inline bottle labeler machines provide a massive leap in productivity and efficiency. Once bottles are filled, they can be continuously fed to the labeling machine, resulting in roughly 150 labeled products per hour. Rotary label machines are at the high end of the spectrum, running up to 500 labels per hour and providing ultimate label placement control and consistency. Automatic labeling equipment ranges in capability and price. Choose one that not only fits your current operational needs but can scale with your needs as you grow.
The Importance of Labeling Equipment
No matter how fast you're able to bottle, jar, can, or fill your THC product, the overall output can be limited by the speed at which you label and push to market. One major challenge experienced by many THC manufacturers is the printing and application of labels — but there are several good THC label solutions and label machine options.
Labeling machines come in a range of prices, which often seems overwhelming to manufacturers, business owners, and operations managers who are operating on a limited budget. However, the addition of efficient labeling equipment can increase productivity dramatically and pay for itself by ramping up fulfillment immediately.
Efficiency
Typically most THC manufacturers start without a huge upfront capital investment, so to begin production, they manually hand label their cannabis product containers. However, the addition of one semi-automatic labeling machine, tabletop or modular, can increase productivity by almost 500%, allowing up to 150 containers to be labeled per hour.
Fully-automatic inline labeling machines are physically larger and a little more expensive than semi-automatic options, but they can label up to 500 containers per hour. This efficiency increase allows more products to be labeled at an equally accurate but faster pace.
Whether you manufacture THC oil, THC vape juice, THC gummies, or THC edibles, the right labeling equipment will quickly justify its cost.
Quality
The use of a semi-automatic or fully-automatic label machine gives THC company owners and cannabis manufacturing managers the ability to place a well-designed label accurately every time — and we all know that a label with a great design and precise application is a crucial marketing tool.
Label machines are faster, more consistent, and consistently accurate compared to manual hand labeling. The best labeling equipment includes stabilizers that ensure the label is placed evenly and in the same location over and over without movement vertically or horizontally.
Cost vs. Value
While the upfront cost of purchasing or leasing new labeling equipment may seem daunting, it's essential to evaluate all of the production costs that impact your operation.
For instance, the one-time purchase of labeling equipment will be significantly less than the cost of hiring a full-time employee to apply labels to cannabis products. If you already have workers hand-attaching labels, automating your labeling process will free them up to do more pressing and profitable tasks.
Another important part of the cost equation is the reduction of wasted and defective products coming off the line. Labeling equipment is consistent and reliable, so human error is eliminated and fewer labels are misplaced, which saves money. There is something to understanding efficiency and cost savings versus the actual cash price of the equipment. Ultimately, the value of the equipment is greater than the cost in many significant ways.
Evaluating Your Setup
Before choosing the type of label applicator machine you want, know your production goals, evaluate your current setup, and determine the right machine size. This will help you choose a labeler that meets your needs, fits seamlessly into your current operation, and makes your process more efficient.
Production Run
To properly evaluate your needs, clearly identify your labeling and production goals.
Start by deciding the quantity and speed that you want your THC product to move through the assembly line. Label application equipment comes in different speed ranges, so choose one that fits a pace that your line can maintain.
You'll also need to consider the potential downtime that could occur as you change labeling applications (e.g., moving from hand labeling to a semi-automatic machine).
Any labeling machine you choose will come with pros and cons, so look for a labeler that will be simple for you to set up, use, and maintain.
Space and Equipment
Once you have clear goals in mind for the amount of product you'll be pushing through your line and at what speed, look for equipment that will fit into the space you have and be easily accessible by workers. Other considerations include existing equipment compatibility and overall packaging line design.
Your production line includes a variety of machines, such as fillers, cappers, and labelers. For the sake of efficiency, it is best to purchase a labeling machine that is compatible with the equipment that you already have in your line to prevent problems. This is also an opportunity for you to decide whether you want your labeling machine to fit in line with your current machinery, or if you would prefer a freestanding labeler.
You should choose a labeler that can scale with the production line as it expands and improves over time.
Container and Label Considerations
From dropper bottles and tincture bottles to jars, tins, and vitals, there are a multitude of THC container options from which to choose. You can pick from a selection of tamper-evident and child-resistant containers that meet packaging, sealing, and labeling guidelines and regulations, while also keeping products fresh for in-person and online dispensaries.
Regardless of your company's kush container type, once you determine the dimensions, it's time to decide on label size, style, and placement. The most popular types are front and back labels, wrap-around labels, and shrink-sleeve labels.
If you know that your bottle will have an unusual shape, you will need to find a labeling machine that can properly affix labels to those unique dimensions. Labeling machines come in a variety of sizes and types but are not necessarily universal to all label applications.
Quality Containers and Labels
For a sharp, professional appearance, choosing high-quality materials is essential. While the right labeler can do a great job labeling your products, if the containers being used aren't premium, they can cause issues that make your product look bad.
No matter what you choose, be sure the containers are consistent. Imperfections and inconsistencies in the size and shape can cause your label machine to misread where the labels need to be placed. Inspect your containers regularly for any signs of poor quality so that you can address them before they are filled and improperly labeled.
Label quality is another factor that will determine your overall results. Labels come in many different materials and can use a variety of glues or adhesives when applied to your containers. Poor quality labels are susceptible to tearing, bubbling, smearing, and other label performance malfunctions. Choose a well-known and trusted label brand, and give some thought to whether you prefer a paper or synthetic product.
Choosing a Labeling Partner
Choosing the right labeler machine will depend on more than just the machine's functionality. When you purchase from a labeling equipment manufacturer or distributor, you also begin an ongoing partnership with them. Here are a few things to consider as you choose a labeling partner.
Parts
Naturally, all equipment is subject to some rate of failure when it's used hard. It's imperative that your labeling machine manufacturer has spare parts on hand and that they're readily available. The longer your machine is down, the less product you can get out of the door — and time is money.
Be sure to ask your labeling equipment provider if any parts are known to wear out and what the wait time is for replacements. This will allow you to plan for any maintenance or repairs that will need to be done without impacting your regular production time.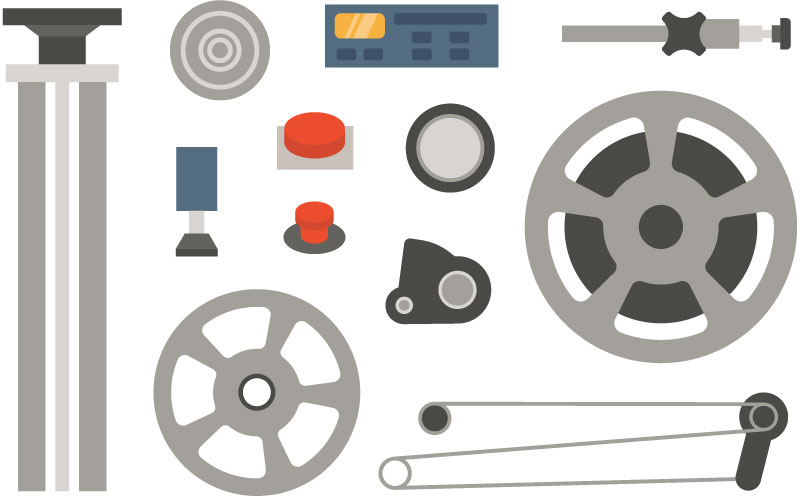 Service
The key to keeping your production line running smoothly is to ensure that your labeling equipment is being maintained and serviced throughout its life. The manufacturer of your labeling machine should be available to answer any of your questions or concerns and assist you in solving minor problems.
The best way to find a reputable dealer is to ask for recommendations within the cannabis community. As you look into labeling equipment dealers, consider the timeliness of their responses, whether their solutions are trustworthy, and if they're able to provide ongoing upgrades and continuous support. All of these will be important as your operation begins to grow.
Quality
High-quality products should be the goal of every manufacturer. However, not all companies follow the same set of standards.
To ensure that you are getting the best value for your money, ask your equipment dealer a few questions about their quality control procedures for parts, repairs, and new machines. For instance, find out how they test machines before pre-sale and ask what type of inspections are done on used and refurbished machinery before they resell them.
The investment you make today into labeling equipment for your THC manufacturing operation or dispensary is going to depend on the support and customer care of the equipment manufacturer long term. As their customer, you want to know that they stand behind their products by providing thorough and helpful answers to your questions, make parts easy to get, and adhere to high-quality standards for all of their equipment, new or used. All of these factors will have an impact on how well your labeling machine performs beyond those first few thousand bottles, and as your operation expands.
Conclusion
As you move toward increasing your hard cannabis product production, be it THC tinctures, THC vape juice, THC creams, THC edibles, etc., with professional labeling equipment, keep in mind all of the decisions you will need to make.
Evaluate your current manufacturing line. Determine the number of containers that need labeling as well as space and design restrictions.

Once you've set some production goals and have an idea of how you are going to integrate a new piece of labeling equipment, it is time to go shopping. Purchasing a labeling machine will require you to compare the different options, including semi-automatic, fully-automatic, tabletop, inline, or rotary. You'll also need to consider your materials (e.g, glass tincture bottles with gloss paper labels) to ensure that the labeling machine you choose will perform well.

Remember that the labeling equipment you choose will also require ongoing maintenance and care to stay operational. You should contact a reputable dealer and get information about their service contracts and the availability of parts so that you will have the resources needed to keep your new machine in working order.
When handling cannabis product manufacturing and packaging from start to finish, it's imperative to have reliable labeling equipment. From choosing the right cannabis grower or supplier to buying the best-fit packaging equipment, it all matters if you want to deliver a great product that appeals to your audience.
The effective use of automation, including label printers and label applicators, offers significant improvements in productivity and output. However, finding the right labeling machine is the key. Make sure to evaluate all potential labeling machines for quality, speed, and reliability before you make a purchase.
About Pack Leader USA
Who We Are
As our name suggests, Pack Leader USA is a leader in the labeling industry. Built on the research and development of Pack Leader Machinery, Inc., we entered the North American market with high-quality products, modernized labeling technologies, and an excellent customer service reputation. We have taken the labeling industry to the next level by designing easy-to-use and cost-effective labeling machines that serve the growing cannabis and cannabis THC industry.
Our Commitment
We are committed to providing our customers with reliable machinery, quick service, and readily available parts to ensure uptime and eliminate costly downtime. Before you purchase, we are happy to offer free consultation and, if you're ready to buy, we'll walk you through the purchasing process step by step from price quote and delivery to set up and ongoing customer support and training.
We promise to provide more than just a piece of equipment for your production line — we'll come alongside you as your partner.
Set up a free labeling equipment consultation with our team today to learn which of our labelers can help your THC manufacturing operation or dispensary improve productivity and efficiency and fit your budget.