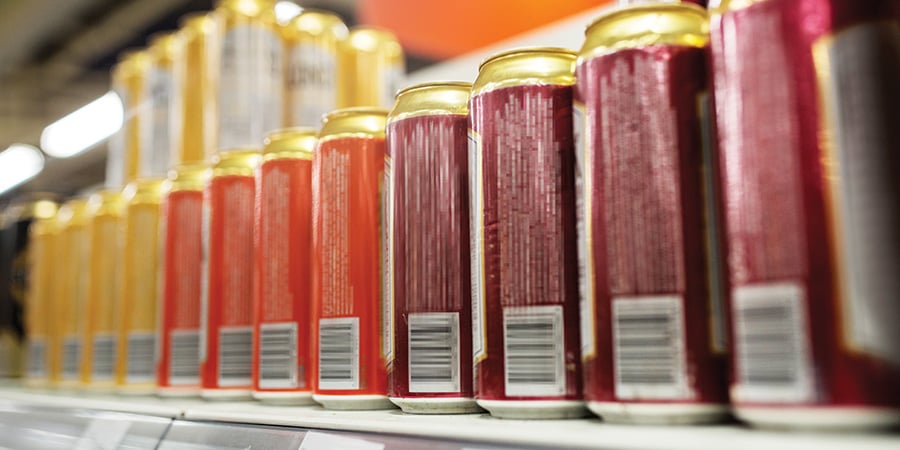 Make informed decisions on branding, container type, and production options.
Small breweries continue to make a big impact as the craft beer industry boasts year-over-year production growth, contributing 555,000 jobs and $79.1 billion to the U.S. economy. With a record number of 8,000-plus breweries operating in the states — and an ever-expanding selection of new craft beer varieties on the market — your branding and packaging choices need to be as crafty as your beer.
For some, this means deciding between beer bottles and beer cans. For others, it means investing in a new label design or labeling equipment. Often the best solution involves all of the above. But even if you get all of this right, your craftiest plan can be unraveled if you're not staying on top of labeling regulations and best practices.
To help, we've compiled a high-level look at all of these considerations, along with resources for you to stay up with current trends and information.


Beer Bottle or Beer Can — Which is Best?
Equally convincing cases can be made for choosing beer bottles or beer cans for your brew. Here are a few thoughts on each side of the fence.
The Case for Cans
There are several reasons why the can is cool again, making it a trendy option for craft beer enthusiasts. Cans are portable, convenient, environmentally friendly, and an economically attractive option.
Co-founder of Nebraska Brewing Company, Paul Kavulak, said his craft beer company decided to go with 16-ounce cans. One deciding factor was that there's more printable area on a beer can than a beer bottle. "We can fit more artwork, our company information, and tell our story more effectively in that package," Kavulak said.
Dennis Stack, director of sales and marketing at Lone Tree Brewing Company, agrees with the merits of cans, saying, "With the addition of a labeling machine for small batch canning runs, we will be able to bring some of our more experimental beers to thirsty beer drinkers across our distribution networks in a more portable format."
Bottle Benefits
Bottles have their perks, too. There's an overall perception that bottles are more high-end and that beer tastes better in bottles, especially when customers are drinking straight from the container.
Some craft beer companies start with growlers and add bottles as their operation grows. Rockyard Brewing Co. made this transition and found that selling bottled beer was "lucrative and easy to manage." They started small, doing everything by hand and turning out 10 cases per hour. When they upgraded to an automated system with a pressure-sensitive labeler, they were able to increase production to 60 cases of 12-ounce bottles per hour.
After researching the pros and cons of beer bottle and beer can options, Jon Myers, owner of Power House Brewing Co., ultimately decided to go with glass bottles. He believed beer cans might be a hard sell in some markets where consumers still expect craft beers to come in glass bottles. Myers also researched equipment options and was surprised by the issues brewers were having with unreliable machinery, saying, "I'm a little astounded at the amount of wasted beer as a result of poorly engineered equipment."
Craft Beer Label Design Styles
No matter which container you decide to use for your craft beer, designing a stellar label is essential. We've compiled some of the key features of Hop Culture's list of the 20 best beer label designs for inspiration.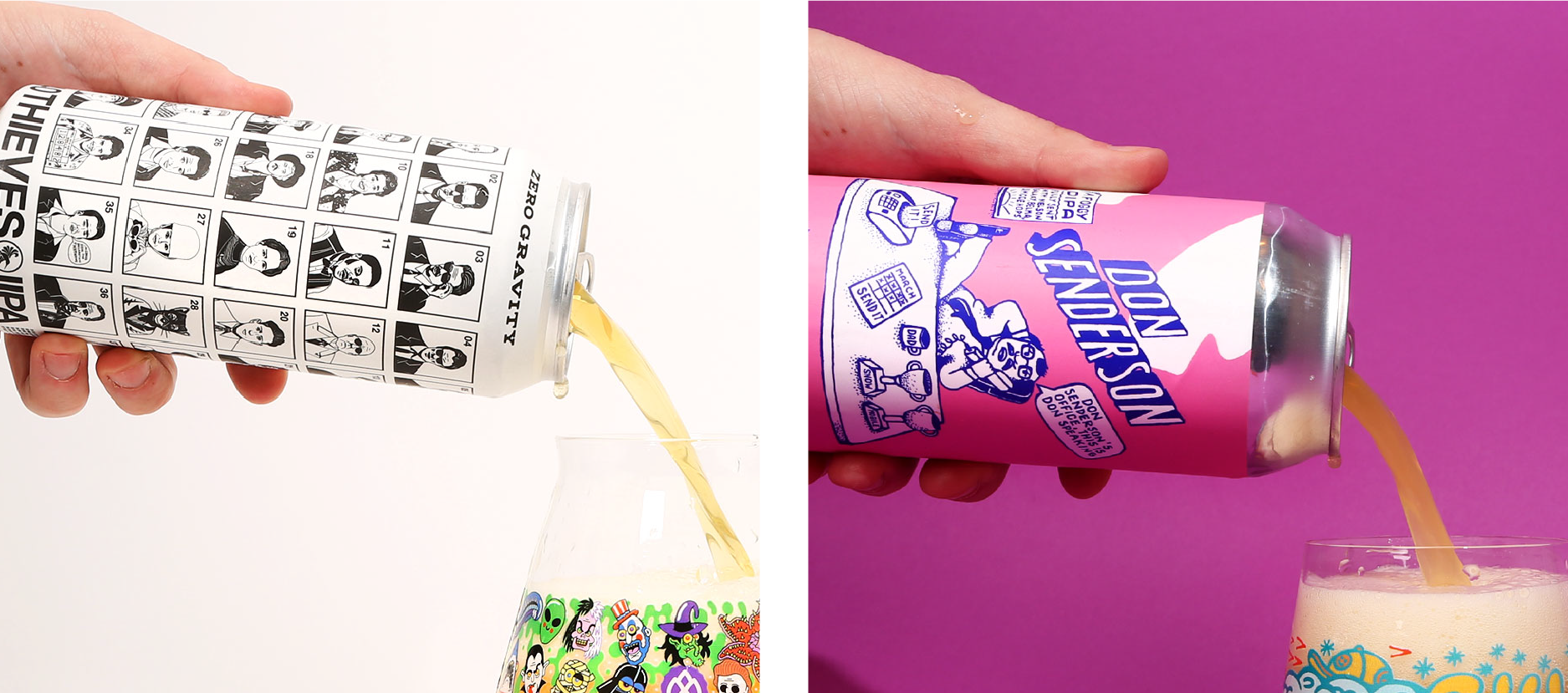 (Photo credit: https://www.hopculture.com/best-craft-beer-can-art-2019/; Don Senderson, Humble Sea Brewing Co. + Cellarmaker Brewing Co. — Santa Cruz, CA + San Francisco, CA, Art by Juan Llorens; 40 Thieves, Zero Gravity Brewing — Burlington, VT, Art by Andy Morris)
Art Styles
Whimsical
Themed
Illustrative
Cartoon
Trippy
Spiritual
Eastern-inspired
Nature-inspired
Visually depicts flavor
Abstract
Typography-driven
Vibrantly colored
Reinvented retro

(Photo credit: https://www.hopculture.com/best-craft-beer-can-art-2019/; SHORTS!, Shacksbury Cider — Vergennes, VT, Art by Will Bryant; New New, The Rare Barrel — Berkeley, CA)
Container & Finish Trends
Short beer cans
Matte black cans
Glitter cans or bottle labels
Metallic and matte mix
Clear glass bottle
Gold foil
Textured
Die-cut label shapes

(Photo credit: https://www.hopculture.com/best-craft-beer-can-art-2019/; Project Baccarat, Lord Hobo Brewing Co. — Woburn, MA, Art by Top Hat; Piece of Future, The Eighth State Brewing Co. + Ponderosa Farm Brewing — Greenville, SC, Art by Nicolas Pabon)
Brand Personality
Hipster
Irreverent/Punk/Hardcore
Comedic
Outdoor lifestyle
Classic-yet-modern
Dynamic
Creative
Classy/elegant
Serious
Fun-loving
Labeling Equipment Matters
Wasted beer and costly downtime due to subpar equipment should not be a craft brewery's reality. Whether you choose to sell beer bottles, beer cans, or both, make sure that your labeling machine and materials are coming from quality vendors.
It pays to do your research and ask around before purchasing anything. A versatile, wrap-around labeling machine can work for both beer bottles and beer cans. The best options are fast, accurate, and adjustable for various craft beer labeling applications.
Labeling Regulations & Best Practices
When you're in the midst of the branding or rebranding process, it's important to know what legal pitfalls might lie ahead for your craft beer business.
Here are some resources to help on that front.
Pack Leader USA is Here to Help
Companies like Good People Brewing Co. have turned to Pack Leader USA as a trusted partner in the craft beer industry. We have a ton of additional info on our website and are here to answer any questions you might have.
The decision to choose a beer bottle or beer can, learning what equipment is best for you, and knowing what branding direction to take can make a huge impact on your business. That's why we've developed a 20-page ebook with more information as you continue to make these important choices for your craft beer. You can download it for free today.