Packaged food labeling requires more than a pretty design.
The impact of a high-quality label should not be underestimated. Your label is often the first impression that consumers will have of your packaged food, so it's important to put your best foot forward. This includes choosing the right labeling machine.
With an average of 30,098 items carried in a supermarket, how will your packaged food product compete?
You can spend a lot of money on designing your food label (pro tip: color increases brand recognition by up to 80%), but poor labeling practices can negate a beautiful design. If the label is placed crooked, hasn't adhered properly, or the product never makes it to the shelf because your labeling machine is constantly on the fritz — your product and your investment is in jeopardy.



That's one reason you need a dependable food label applicator. Ideally, one that can handle many different products with ease and meet quality standards. Shopping for the perfect labeling machine can be difficult if you're not sure what capabilities, functions, or features are available. It's helpful to start with foundational needs before diving into specifics.
Look for the following five features in an automatic labeling machine to ensure your packaged food production line runs efficiently — and that your labels are applied correctly every time. You can't risk your consumers' first impression of your product.



5 Most Important Qualities of Packaged Food Labeling Machines
Considering these qualities when researching labeling machines should help you narrow down the search.
Reliability
Your food labeling machine needs to function day in and out without excessive downtime or maintenance. Any disruption to service could set you back by days or weeks. Ideally, you will choose a machine that is easy to set up and use with minimal training.
Designing an efficient packaged food production line means purchasing the right equipment for the task from a labeling machine vendor that offers reliable equipment that comes with a guarantee.
Quality Construction
Choosing quality-built equipment is a major factor in keeping your operation running smoothly. Not only does your labeling machine need to fit with your other packaging equipment, but it should also produce little waste and prevent debris from contaminating your packaged food. Make sure replacement parts are readily available so you can have the machine repaired promptly if anything should ever need replacing due to expected wear and tear.
The labeling machine you choose can significantly impact your packaged food operation. It's important to evaluate the cost vs. value of quality labeling equipment before you purchase in order to make sure you get the highest possible return on your investment.
Accuracy
No matter what kind of food you're packaging, you need a machine that can place labels accurately — not just once, but hundreds or thousands of times. By using built-in sensors and allowing for manual adjustments as needed, a quality machine will be able to pinpoint where your labels need to land on the package each time.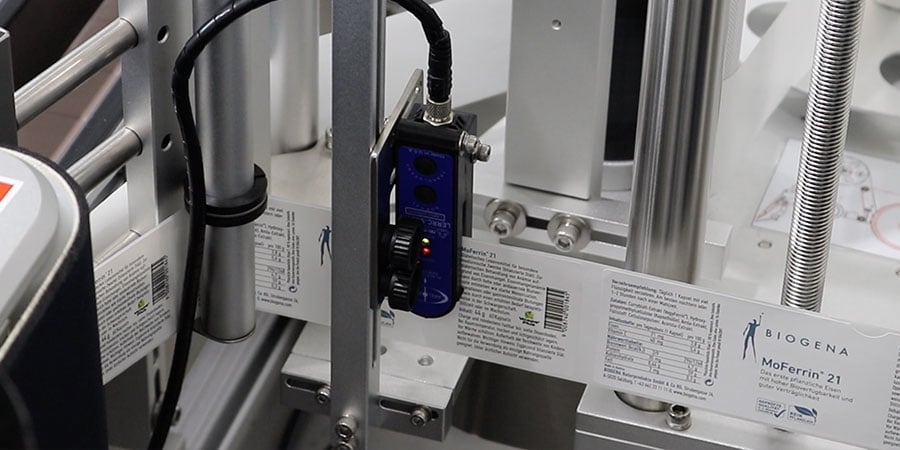 A crooked or misplaced label can communicate an overall lack of quality that may subconsciously influence the way consumers feel about your product and brand as a whole. Entrepreneur.com lists maintaining consistency as one of the top five considerations in building a trusted brand. A consistently placed, high-quality label is one way to show customers that your company is dependable, pays attention to detail, and does not cut corners.
Delicacy
For packaged food products in particular, it's important to purchase a machine that will place labels delicately, yet firmly. You don't want the machine to destroy the finished food products by applying too much pressure, but you also don't want your labels to fall off of the packaging.



Look for a machine that offers control over the pressure mechanisms so you can set a safe threshold for the foods you're packaging.
Long-Term Support
Selecting the right labeling machine is about more than just the machine itself. It's also about choosing an equipment partner that will be by your side when you need support. You want to buy a machine that's backed by both a warranty and a service team that can help troubleshoot and repair issues in a timely manner.
Look for a manufacturer that offers on-site training and setup so you can be sure the machine is operating properly from the second it gets delivered. As you evaluate which high-quality labeling machine best suits your needs, it's good to ask questions and make sure the vendor promises high standards of excellence.
Considering these essential qualities when purchasing a labeling machine for packaged food should help you narrow the field and find a labeling machine that works for your company. Once you have a firm grasp on these key elements, it's time to begin looking at labeling machine models to determine what will best meet your current and future needs.
Which labeling machine is best for packaged food?
The next step to finding the right equipment for your operation is choosing a partner that can walk you through the decision process and answer all of your questions. At Pack Leader USA, we offer labeling machines to handle a wide range of packaged foods, including front and back labels, top and bottom labels, and wrap around labels.
All of these labeling machines come with the dependability and accuracy you need to create high-quality packaged food labels — every time. And better still, every purchase includes the full support of the Pack Leader USA team.
To learn more about food labeling machines from Pack Leader USA, schedule your free consultation.