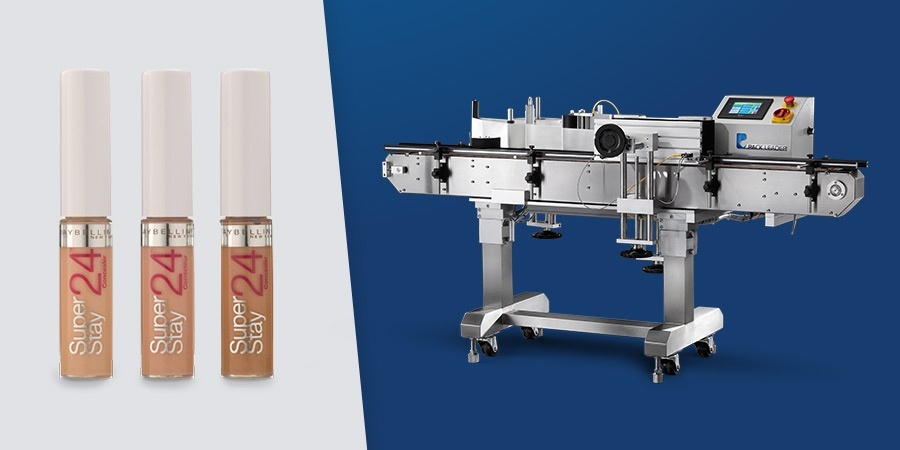 Cosmetic bottles and lipstick tubes come in a huge range of sizes and styles today. Every cosmetics manufacturer is trying to redesign traditional tubes to stand out on the store shelves. Of course, this means that their labels are also becoming more complex. Choosing the right labeler to handle these diverse cosmetics products is the key to a successful co-packing operation.
Why Wrap-Around Labelers
Statistically, wrap-around labels are the most common way to label cosmetic products. They are among our best-selling labeling machines thanks to their versatility and simplicity. Wrap-around labelers can be used on nearly any container, even those that are not completely round, although much of the cosmetics industry has turned to round containers for the majority of products. Wrap around labels can be easily scaled up or down to fit lipstick tubes, eyeliners, shampoo bottles and more.
Wrap-Around Labelers for White Label Products
The sudden expansion of white-label products and services has also made it important for co-packers to have wrap-around labelers that can easily move from one branding to the next in minutes. These machines can be set up for one particular type of package with quick changeovers between label reels in just minutes without any additional setup time.
Types of Wrap-Around Labelers
Pack Leader USA offers six different wrap-around label options for containers of different sizes and styles. You can choose between entry-level machines and professional high-capacity machines such as:
Why Choose Pack Leader USA
Pack Leader USA has been leading the way in the labeling industry for many years. We have earned a worldwide reputation for creating quality, reliable labeling equipment. Co-packers turn to us to buy equipment that can handle packages of any size and type. With our color touch screens and simple setup walkthroughs, we've made labeling equipment more accessible and easier to operate. We have also implemented a number of strategies to ensure the accuracy and quality of labels on containers for a more consistent result. Your customers will be impressed with the overall dependability of the products that leave your labeling line. Pack Leader also offers unbeatable customer service to our customers, so you can call us anytime with questions and we'll be here for you.
Your customer's cosmetic bottles deserve a great labeling solution. If you're in need of labeling equipment that can handle whatever your customers throw at you, Pack Leader USA has a solution. Whether you're in the business of white labeling or you have a need for equipment that can handle the tiniest of cosmetic bottles, we've got it all. Get in touch or sign up for a free labeling consultation.