Choosing the best packaging and labeling solution for your CBD product begins with knowing what's current in the industry.
Once you've gathered some inspiration, asking key questions will help ensure that you select the right approach — and equipment — to meet your goals.
The awareness and popularity of cannabidiol CBD products are on the rise, and with it, the amount of competition in the market is increasing. In fact, the CBD market size is expected to grow at a rate of 125.5% by 2026.
This is great news for distributors and manufacturers of CBD. However, it also means that your product, packaging, and speed-to-market need to be on point in order to claim your piece of the CBD pie.
Some don't give enough attention to choosing CBD labeling equipment. Here's where you can get a leg up. Designing a professional-looking label with high consumer appeal — and making sure it's efficiently well-placed on your product — can differentiate your CBD brand from the competition.
To help you evaluate your options, we've put together an informative CBD Industry Guide that walks through each factor you'll want to take into account when purchasing equipment. But first, let's take a look at some CBD packaging trends to help you determine what style of package and label you want to use.
The package and label you choose should suit the type of CBD product(s) you offer and the consumer base you're looking to attract. There's virtually no limit to the creativity you can exercise when marketing your brand.
Start brainstorming by looking at CBD packaging inspirations and take note of what attracts your eye. Which trends do you think draw the most current and prospective customers?
Top 10 CBS Package & Label Styles
As you brainstorm ideas and gather inspiration from other packaging, consider these ten styles that have made an impression in the market.
1. Earthy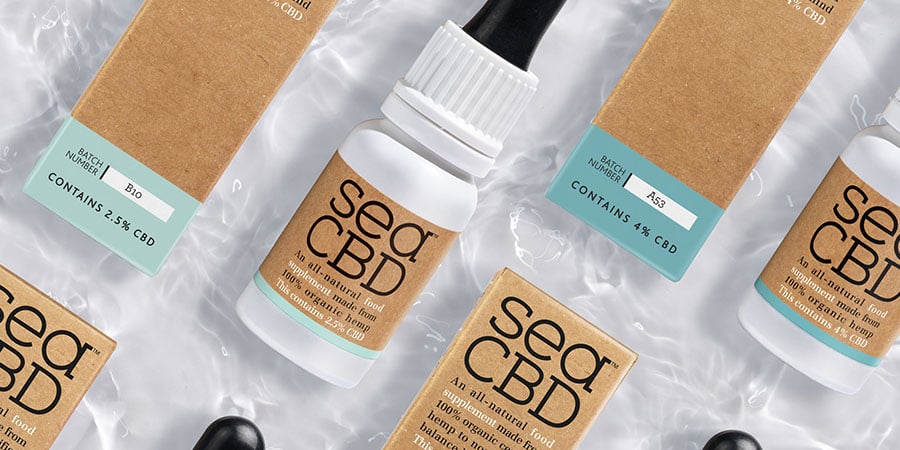 IMAGE SOURCE: https://worldbranddesign.com/all-new-organic-supplement-sea-cbd-unveils-brand-identity-by-echo/
If your ideal customer gravitates toward a natural lifestyle, you might brand your packages using rustic colors and recyclable containers. This natural, earthy look also appeals to consumers who are concerned about being eco-friendly.
2. Health-conscious
IMAGE SOURCE: http://prettylethaldesigns.com/portfolio/botaniq-detroit-cannabis-branding/
Another segment of the market is interested in potential health benefits of CBD products. These consumers may resonate with packaging that resembles other familiar health items such as protein powder or bagged granola.
3. Medicinal
As cannabidiol CBD becomes more accepted as a medical alternative for pain relief, some are branding their products to connect with this market. These containers may resemble traditional pill bottles or toothpaste boxes.
4. Feminine
IMAGE SOURCE: Yossi Belkin, https://dribbble.com/shots/5980314-Moonlight-Herbal
Depending on your target market, you might opt to take some cues from the beauty industry. Choose bottles that mimic the look of serums and tinctures with labels that employ soft coloring, floral touches, and feminine lettering styles.
5. Masculine
IMAGE SOURCE: https://www.behance.net/gallery/78508085/Hemp-Oil-CBD-Packaging-Design-from-99design
Dark or sporty colors, graphics, and bold fonts may be attractive to a masculine market that is interested in exploring the benefits of CBD. Consider taking your design inspiration from products such as deodorants or body sprays that are primarily geared toward men.
6. Minimalist/Neutral
IMAGE SOURCE: https://mowellens.com/the-goods/inner-peace/
Clean, simple packaging with crisp black and white or charcoal gray labeling (possibly with a pop of color) can present a modern, high-end feel and offer wide appeal to the mass-consumer market.
7. Botanical
IMAGE SOURCE: https://www.packagingoftheworld.com/2018/11/boreal-cannabis-corp.html
Labeling that features hemp leaves (whether prominently or subtly) using a variety of green hues can quickly tell consumers that the package contains CBD. A botanical look and feel also fit well with modern design trends.
8. Multi-color Palette
IMAGE SOURCE: http://prettylethaldesigns.com/portfolio/botaniq-detroit-cannabis-branding/
Another option is to select a pleasing family of colors, then use the same label design in a different color for each variety of CBD in your product line. This is a great way to add visual appeal as well as show consumers, at a glance, that your brand offers multiple options.
9. Round/Interesting Shapes
IMAGE SOURCE: https://thedieline.com/blog/2017/7/31/student-spotlight-artcenter-packaging-students-design-for-the-cannabis-industry
Don't feel that you're stuck in a box with a rectangular shape. Using a circular label may cause your package to stand out from the crowd. Another bonus – round shapes are known to be both inviting and impactful.
10. Vibrant/bright
IMAGE SOURCE: https://www.takearecess.com/
Although CBD is often known for its calming effects, there are plenty of other benefits that consumers love. So don't be afraid to go bold with your color pallet. Bright hues, used tastefully, are eye-catching and offer amazing shelf-appeal.
Don't Ignore These CBD Labeling Regulations
When developing your label design and content, it's also important to comply with FDA regulations. CBD manufacturers and distributors may find it frustrating that the regulations specific to CBD are still forthcoming. In the meantime, it's best to play it safe. Whether you need to refer to an FDA-approved supplement guide or food labeling guide, depends on your specific cannabidiol CBD product.
As with any label, the best course of action is to be clear, concise, and easily legible. Make sure consumers know exactly what they're purchasing.
Choose the Right CBD Labeling Equipment for Your Operation
As we discussed in this CBD post, asking key questions to help define your needs and goals can make a significant impact on your success.
Questions to consider:
Will a manual, semi-automatic, or fully automatic labeling system best meet our efficiency needs?
What machine(s) will meet the quality standards that are important to our brand?
Will the value offset the cost of the machine (think ROI)?
What are our production run needs (quantity, speed, label changes)?
How much space do we have available?
Will the new machine work with our current equipment?
What type/quality of container and label do we want to use?
What parts and service are available through the equipment manufacturer?
Does the manufacturer stand behind their products and services?
Choose the Right Labeling Partner
From making sure that your label will attract your desired consumer market to following FDA-approved regulations to purchasing the right labeling equipment, there's a lot to consider. As you continue to develop your package and label, finding an experienced partner can be an invaluable resource in helping you answer questions as they arise.
For a more detailed look at the types of CBD labeling equipment available and additional factors to examine, download our free CBD Industry Guide to Evaluating Labeling Equipment.