Sometimes you just need to print your own labels.
No company wants labels with smeared letters or faded graphics on their products. Misprinted or poor quality labels are a headache for any industry, but it can be devastating when bad labels mean serious legal repercussions or public harm. This is a real fear in industries such as pharmaceuticals, where information such as lot numbers, expiration dates, and other codes need to be exact and clear. But many more businesses than pharmaceutical companies can benefit from printing labels in smaller batches.
Having on-site printing puts more control in a company's hands, especially when they don't have to wait for outsourced labels to be shipped or end up with a surplus of useless labels with wrong information. This is where hot stamp printers shine.
For over 40 years, hot stamp printers have been a top solution for businesses that need to swiftly print smear-proof and detailed labels in-house. Pack Leader USA's hot stamp printers provide an inline solution for any business that needs professional labels that can be quickly printed on a production line. In this post, we'll explore some of Pack Leader USA's options to help you create the labels you need.
Labels That Last
Hot stamp printing works by heating metal dies that press down on a ribbon to melt ink onto a surface, much like a printing press. Unlike traditional printers that require rigid surfaces for clear printing, hot stamp printing will render clear, sharp images on flexible materials such as bags or pouches. The ink dries quickly and is smear-free. Hot stamp printing has even been used on leather and paper for books and became especially popular in the 1970s for printing directly on plastics. If your business is just starting out, hot stamp printers have a lower up-front starting cost than other options.
Maximum Flexibility
For small producers that can't afford the high cost of other printer types, a hot-stamp printer is a reliable, long-lasting solution. Businesses like coffee roasters, bakeries, or craft breweries who produce products on a smaller scale and only need to print a few hundred labels at a time will greatly benefit from this printing option. And for businesses that require speed above all else, printing on-site isn't a luxury but a necessity. For example, warehouses that need order fulfillment codes printed immediately don't have the option of waiting on labels from an outside printer.
Printer Add-on Made Easy
If your production facility already uses a Pack Leader USA label machine, adding a modular hot stamp printer will be a simple process. Our Allen Hot Stamp Printer and ELF Hot Stamp Printer are designed to work with our PL, PRO, and ELF Series of labelers.
The Allen Hot Stamp Printer: With custom bracketry and wiring, the Allen Hot Stamp Printer will attach to your PL Series or PRO Series labeler and provide up to 800 prints per minute. Quick change hot-foil ribbon helps cut down on setup and reset times, too. You can also order special type-faces and plates in addition to a wide range of accessories.
The ELF Hot Stamp Printer: Compatible with our PL Series and ELF Series of labelers, the ELF Hot Stamp Printer features a quick-change, hot-foil ribbon just like the Allen printer and offers high-speed printing and the same durability and variety of accessories.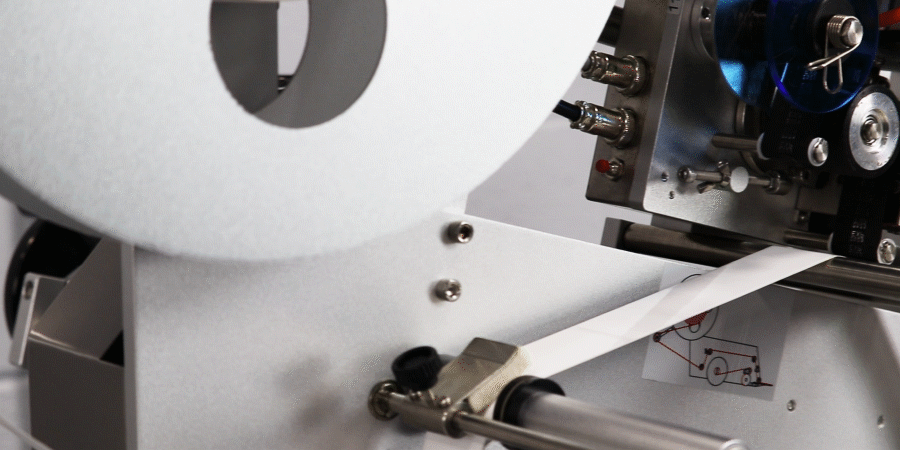 Both printers feature adjustable timers and air temperature control systems for consistent, superior prints. If you're looking for robust, reliable hot stamp printers to give you maximum control and fit right onto your Pack Leader USA label machines, these are the printers you want.
Why Choose Pack Leader USA?
Pack Leader USA wants your operation to run smoothly. We create labelers that allow businesses to focus on making world-class products rather than constantly worrying about servicing yet another jammed or broken machine.
Pack Leader USA label machines and printers are robust, durable, and backed by unparalleled service. Your labeler or printer should work just as well in 10 years as it does the day you put it on your production line. Plus, you know you won't get left in the dark wondering how to set up your equipment. Pack Leader USA offers reliable support to ensure your equipment is properly set up and working as it should.
Learn More About Our Hot Stamp Printers
If you need the flexibility to print long-lasting labels reliably and quickly, check out Pack Leader USA's Hot Stamp Printer options. Your business can rely on Pack Leader USA to provide everything you need for stunning, professional labels. Set up a free consultation today and find out how a Pack Leader USA Hot Stamp Printer can transform your entire operation.