There are good label printers on the market, but here's why you can trust Pack Leader USA to offer the best in quality and value.
If your industry requires printing expiration dates, codes, or lot numbers on products (FDA regulations vary), investing in an automated label printer to effortlessly handle this for you makes good business sense.
No more tiny, hard-to-read, hand-written stickers that fall off easily (or won't come off when you want them to). No more cumbersome hand stamps that smear. No more pre-printing expiration labels only to run out or wind up with a surplus.
Upgrading to a label printer that's capable of printing a clear, legible date or code on your product efficiently and affordably should be a painless transition. Once you've decided to automate this task, it's time to start looking at your options to find the best label printer for your operation and current setup.
Hot stamp or thermal transfer: what's the difference?
Hot Stamp label printers are known to consistently provide quality prints at high speeds. These printers work similar to an analog printing press — heated metal dies press down on a ribbon, melting ink onto the desired surface.
Hot stamp printers are considered a durable, low-cost option and are a great place to start. The ink layer on a hot stamp printer ribbon is thicker and delivers a darker, more opaque print, but has a lower resolution than thermal transfer printers.
Thermal transfer label printers use heated printing elements to press against the ribbon and transfer ink to a flexible surface. These printing elements are program-controlled and can produce high-resolution digital images.
While these printers may have a higher initial price-point, they are known to have a lower operating cost and provide the added benefit of offering variable data printing. Thermal transfer systems can be set to intermittent or continuous mode, depending on the application. Thermal transfer printers provide sharper edges and higher print quality over hot stamp printers.
Explore the best label printers by Pack Leader USA.
We offer a variety of excellent label printing options. Our systems combine an adjustable timer and air regulator with a temperature control system, making it simple to achieve superior prints.
Let's take a closer look to compare each model and find out which label printer might best suit your current equipment line, specific needs, and budget.
ALLEN Hot Stamp Printer
Integratabtle with

PL Series

and

PRO Series

labeling systems

Durable and efficient for reliable, quality prints

Custom brackets and wiring for easy use and operation

Quick-change hot foil ribbon magazines

High printing speeds, up to 800 prints per minute

Minimum downtime with maximum production output

Robust, reliable technology for outstanding service life

Available accessories include consumables, printing plates, type holders and type (including bespoke characters and plates)
---
ELF Hot Stamp Printer
Integratable with

ELF Series

and

PL Series

labeling systems

Control, durability, and efficiency for reliable, quality prints

Custom brackets and wiring for easy use and operation

Quick-change hot foil ribbon magazines

High printing speeds

Minimum downtime with maximum production output

Robust, reliable technology for outstanding service life

Durable even under extreme conditions
---
MARKEM Imaje SmartDate X40 Thermal Transfer Printer
New standard 1100m ribbon reduces changeovers and improves cost per print

Patented ribbon saving features, up to 20% less ribbon waste

Best in industry 18-month standard warranty

Excellent availability ratio of up to 99.6% without assistance

IP protection available

Print speeds up to 600mm/s

High-quality 300dpi resolution

Up to 50% reduction in power consumption
---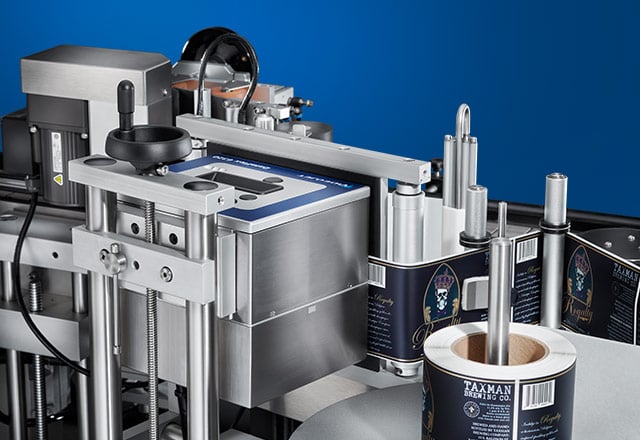 VIDEOJET DataFlex Industrial Thermal Transfer Printer
Flexible, convenient printing that works seamlessly with your labeling machines

Handles a variety of print designs in either 32mm or 53mm widths

Simple removal and replacement steps — reduce downtime when swapping ribbons

Self-regulating tensioner ensures that ribbon stays properly set

Convenient, color touch-screen for easy operation

Preset code gap and bi-directional drive offers double the print capacity per ribbon

Streamlined software checks accuracy on dates and codes to practically eliminate errors

Known for saving companies money in both labor and reduced waste
Which label printer is right for you?
Choosing the best label printer for your operation depends on your specific needs and industry.
Pharmaceutical manufacturers who are concerned with meeting the strict guidelines for labeling can certainly benefit from streamlining processes. A modular automatic label printer add-on can simplify your pharmaceutical line. It allows you to build upon the investment you've already made and continue using equipment you're familiar with while expanding your capabilities. A quality label printer offers peace of mind that your date stamps and batch numbers are printed clearly so you'll be compliant with FDA guidance.
Those of you in the fresh food industry share similar concerns of needing to clearly, reliably label your products in order to protect your customers and the reputation of your company. A modular label printer add-on for expiration dates offers you the same flexibility to integrate with your existing Pack Leader USA equipment.



No matter the industry, a label printer opens up a whole array of possibilities and solutions. It can save you time and money, as well as help protect your business from making costly labeling errors.
Pack Leader USA is ready to help you!
The team at Pack Leader USA is standing by to answer any questions you have about hot stamp or thermal transfer printers. Call us today, or schedule a free consultation to discuss what kind of machine would work best for your operation.