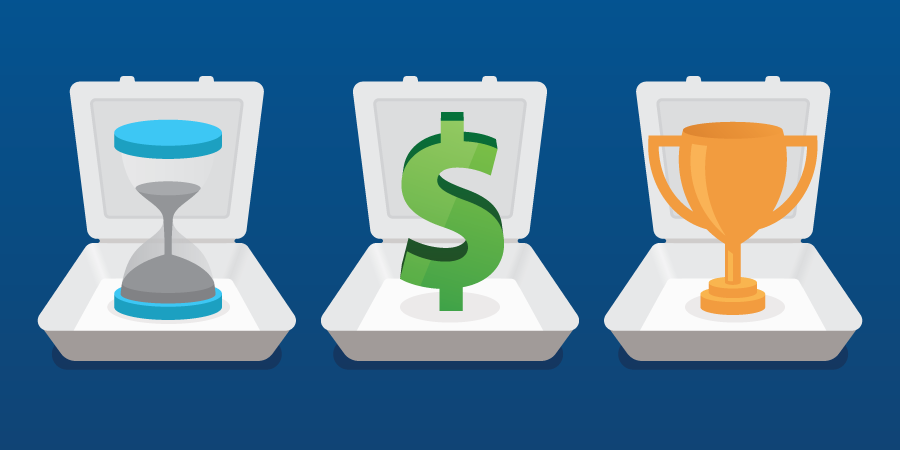 Clamshell containers are a sturdy and safe option for many packaged foods. With the addition of high-quality labels to keep the containers sealed during shipping, they have quickly become an industry favorite. There are several characteristics that will help you identify the best clamshell labeler to join with your current production line including their productivity capabilities, costs and the quality of their output.
Speed and Productivity
The amount you are willing to spend investing in new labeling equipment will likely be a product of the returns you expect to see on that investment. A high productivity clamshell labeler has the ability to increase your productivity by 2-5 times depending on how you are currently applying labeling to your products. If you are still using a hand labeling machine, even a semi-automatic clamshell labeler could double your productivity and cut down on your labor costs. Fully automatic in-line labelers will allow you to feed a constant stream of products through your line at an increased rate, meaning that you can produce and ship more product overall.
Cost
The actual cost of a clamshell labeler will also be an important factor in choosing your next investment. Clamshell labelers come in a variety of shapes and sizes with many different features available. Depending on the size of your containers and labels, whether you want the machine to be free standing or integrated, and the total production capability that you are shooting for, all of these things will impact the price range that you are shopping in. Fortunately, along with the price of a new machine most manufacturers offer detailed training and setup sessions to help you gain confidence in your new equipment, and ongoing maintenance plans to ensure that your machine stays in good condition long-term.
Quality
In addition to the productivity gains and the cost savings of using the right clamshell labeler, the improvement in overall quality is also a noteworthy attribute. Clamshell labelers now feature precision guidance technology along with pressure sensitivity to determine how and where to place labels across the top and bottom of your container. These systems have also integrated fail safe features that stop the machine when missing labels are found, and date/lot code inkjet capabilities so that you can both label and code your products in one perfectly synchronized motion. You will have to compare and contrast the unique features of each machine to determine which one best aligns with your packaging goals.
You should begin your journey to find the right clamshell labeler by identifying how much product you are trying to push through your warehouse on a daily basis. This will help you determine the type and size of machines that will fit your needs. Next, set a reasonable budget based on the type of machines you are shopping for and the amount of return you expect to see on that investment over time. Lastly, compare multiple clamshell labelers side by side to determine which ones have the best functionality and features for the given price point. These three factors should help you narrow down your choice to the best possible labeling machine for your fresh food packaging line.